The nine month absence of college football in Salt Lake City is very close to coming to an end. It's Game Week for Utah Football as they prepare for Weber State on Thursday night at Rice Eccles Stadium.
Kyle Whittingham and Utah set their depth chart on Monday morning with very few surprises. Here's a look at the Two Deep, keep in mind it is very fluid..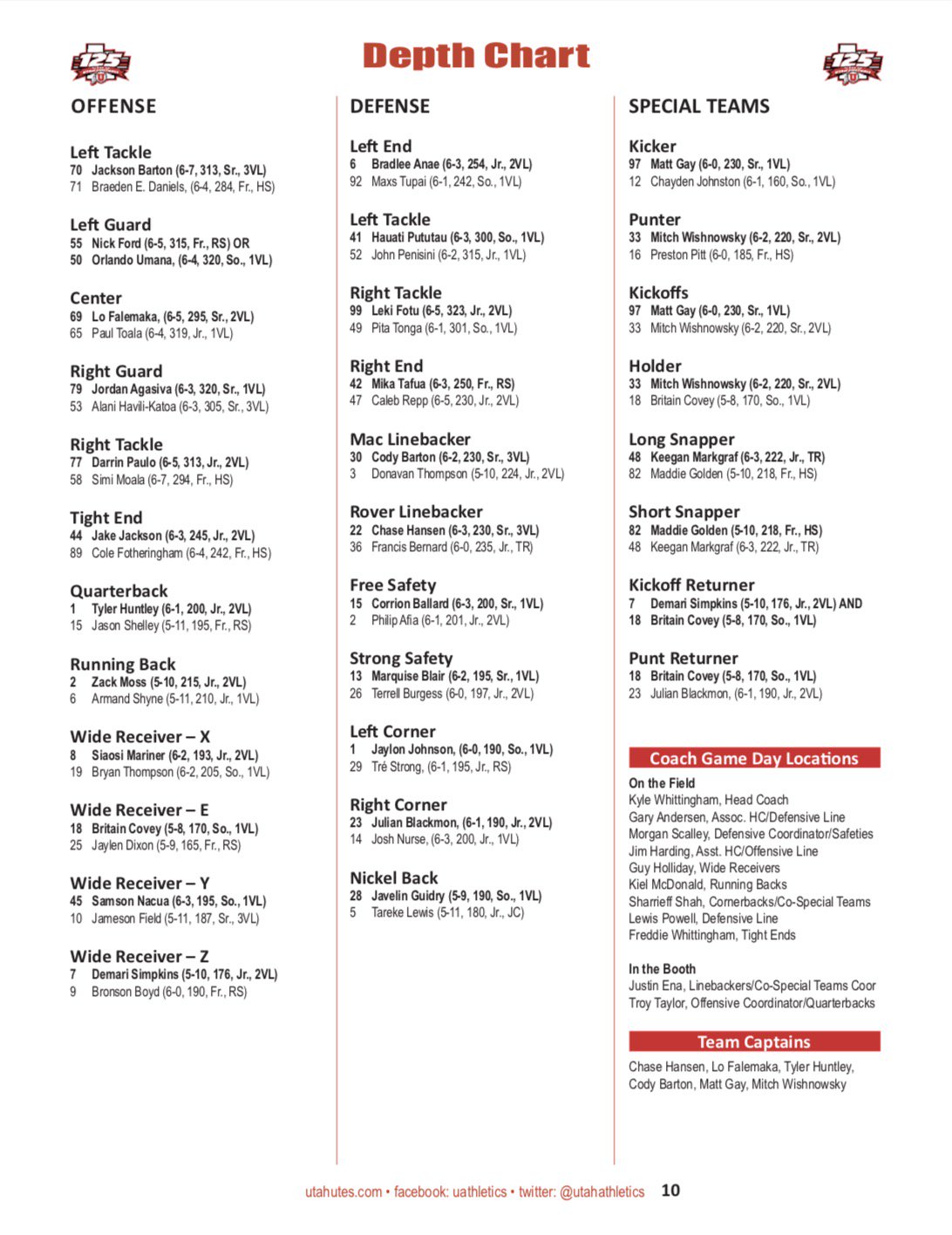 The Quarterback Hierarchy
There was little doubt throughout fall camp that Tyler Huntley was QB1 for Utah. The real question was, who would back him up? The answer came on Monday morning. Redshirt freshman Jason Shelley beat out Jack Tuttle for the QB2 at Utah. Throughout the spring and fall, Shelley and Tuttle were extremely close in both reps and production. In the end, it appears that Shelley's consistency and year of experience in Troy Taylor's system nudged him ahead of Tuttle. Kyle Whittingham mentioned at his weekly press conference that the plans for Tuttle remain fluid, but they'd like to use a redshirt on him this year.
Kyle Whittingham Press Conference
Whittingham addressed the media in the first of his weekly press conferences on Monday afternoon from the Eccles Football Facility. You can hear the entire press conference right here. 
There were a few interesting nuggets to come out of the press conference..
1.Solomon Enis didn't crack the Top 8 WR's on the depth chart, but Whittingham says he expect him to figure into what Utah is doing on offense this year and break into the rotation.
2.Francis Bernard continues his upward trajectory at Linebacker and will back up Chase Hansen for now.
3.Bradlee Anae and Mika Tafua are definitively the Top 2 Defensive Ends heading into the opener against Weber St.
Utah and Whittingham by the Numbers
1.Kyle Whittingham is 11-2 in regular season openers. (5-0) vs. Big Sky, (2-0) vs. Big 10, (2-0) vs. MWC, (1-0) vs. ACC and (1-2) vs. Pac 12
2. Utah and Kyle Whittingham is 21-1 vs. Non-Conference Opponents since 2012, the only loss vs. Utah State. The (.955) winning percentage is the best among Power 5 Schools over that period of time.
3. Zack Moss was 2nd in the Pac 12 a year ago in missed tackles with 64. Only Bryce Love had more with 76.
---
Subscribe to ESPN700's News!
Get the latest sports news, contests and flyaways, and more straight to your inbox with our weekly emails.